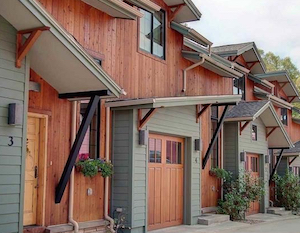 Alpenglow's urban row house sales continue with another pending sale and only one residence currently listed. The 3 bed floorplan is listed at $895,000 = or $467/Sq.Ft. recently reduced from $1,037,000. There is one 2 plus bed pending sale list priced $795,000 = $428 / Sq.Ft. The last 2 bed plus sale to close was April 2016 for $680,000 = $420/Sq.Ft.
There are 6 Alpenglow Rowhouse residences total featuring multi level units from 1,681 - 1,713 Sq.Ft. of living space and a garage which can be converted to office space. Nightly rentals are allowed to help offset carrying expenses. With the limited inventory for single family homes for sale in town, Alpenglow Rowhouse is a good alternative for the primary or second home buyer.
There have been 13 townhome or condo sales downtown from $310,000 to $1,500,000 in the 1st 3 quarters of 2017. See the current downtown condo / townhouse inventory.