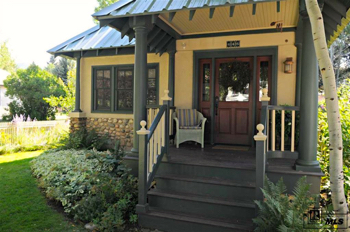 We are down to only 9 single family homes for sale in downtown Steamboat Springs today (Oct 13, 2017). The home I sold and closed on yesterday (pictured left) for $900,000 was on the market for only 2 days. A beautifully remodeled 1923 Craftsman style home downtown doesn't come along often, so this one was special to my clients.
Though this home on 446th 7th St. was only 1306 finished Sq.Ft., size didn't matter for my client, whereas style, floor plan and location were key. The Craftsman style stone home, one of kind charming stone garage, beautiful gardens and walking distance everywhere in town was what won the buyer's hearts. They were buying a piece of history in Steamboat Springs and that is something hard to put a value on.
While we see some beautiful renovations in the works to older homes in town, local builders are also reacting to the new demand for contemporary or often referred here as (mountain modern). Barn Village, a new subdivision closer to the ski slopes features several newly constructed homes for sale.
I have to admit the word Craftsman didn't register upon 1st request because we often refer to this style of home intrinsic to Steamboat Springs as a "Bungalow". I really came to appreciate my new found friends, because they reminded me the value in a timeless design and appointments, features we just don't see much anymore. It makes me wonder how long this desire for modern will last and hope to see more preservation of homes showing evidence of Steamboat Springs history.