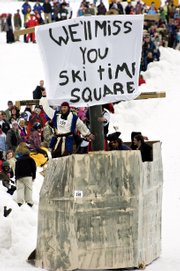 Aspen Ski Company's owners and KSL Capital Partners has acquired Intrawest from Fortress, a $1.5 Billion takeover of Intrawest's owned and operated ski areas. They will now own or manage Colorado's Steamboat Ski and Resort Corp. A new entity name is expected to be announced this fall 2017.
What does this bring to Steamboat other than a buzz about future real estate values increasing? Aspen is run by skiers, and our mountain could see a positive change in mountain operations as Intrawest wants to bring more value to their guests, more opportunities for employees and more investment into the local communities, according to the Denver Posts interview with Intrawest Chief, Tom Marono.
Locals have missed our vibrant base area since the loss of Ski Time Square in the summer of 2008 when restaurants closed, buildings turned to parking lots and redevelopment never happened due to the downturn of the economy.
This sale is a breath of fresh air, since Aspen Ski Co./ KSL understand skiing & travel industries, while investing locally. The owners of Aspen Ski Co, the Crown Family, funded a school, hospital and numerous infrastructure projects in Aspen. KSL Partners – is a private equity company, based in Denver dedicated to investments in travel and leisure businesses. They currently own Squaw Valley / Alpine Meadows, along with investment partnerships in beach and golf resorts around the world. They partnered with East West Partners ("East West") in 2011 to pursue resort real estate acquisition and development opportunities throughout the United States. East West based out of Avon, was founded in 1986 with the purchase of land now known as Beaver Creek. Eric Resnick, the chief of Denver-based KSL Capital, which has raised more than $7.5 billion for 30 hotel and resort investments since 2005, recently told the Denver Post that they have earmarked a lot of capital for improvements to be able to continue to reinvest significantly in the communities and the mountains.
The current owners of Steamboat, Fortress, is a New York private equity firm with $70B of assets under management that owned Intrawest since 2006. Fortress was recently acquired by Softbank of Japan, one of the world's largest private equity firms with a focus on telecom and technology and is not a resort operator. According to several local sources that work under their umbrella, there wasn't much interest in investing locally or improving mountain operations and terrain. I would venture to say they were more about counting beans not inches of powder.
Big changes like this gather a lot of attention and typically, speculators and developers follow. Aspen and KSL worked last year together and acquired all of the property at the base of Snowmass. A Redevelopment project is in the works there now.
This Intrawest deal is expected to officially close end of the 3rd quarter of 2017. Intrawest stock price has spiked over the last few months with rumors of this deal happening. Intrawest's plan has visions of real estate development, on-mountain improvements, and more global marketing. Aspen Ski Co. has been looking for ways to compete with the ever-growing empire of Vail Resorts, will a super dooper multi resort pass such as the Epic Pass follow? Its too late in the process to offer a special ski pass for 2017-18 reports the Aspen Times.